Our Roku Channel Software Pulls Your Videos Directly From Vimeo
Our software natively syncs with a Vimeo account. While you can store your videos anywhere, our Vimeo sync tool is the easiest way to store and import your videos. It allows you to pull your videos directly from your Vimeo account into our DirectCaster back-end channel management software.
Once your videos are in our system, you can organize them and then easily publish them to your Roku channel.
When you sync your Vimeo account with our software we automatically pull key resources from each video in your Vimeo account.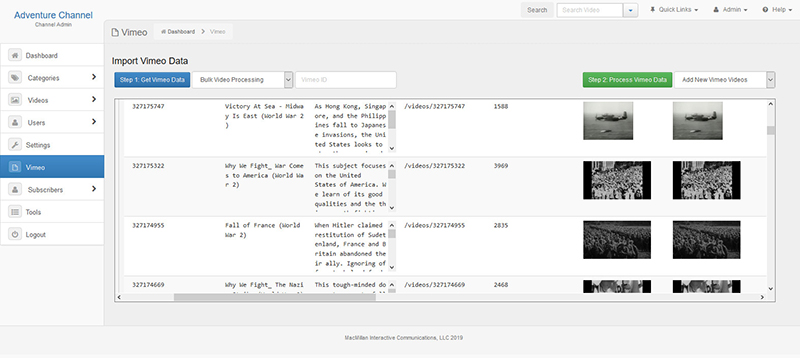 For instance our software pulls the following information from your Vimeo account when it syncs your videos:
The title of the video
The thumbnail (screen shot) of your video
The description of your video
Tads that are associate with your video
The length of your video
All the needed links to your video files
Once our software pulls this information, it automatically loads this data into our system. You are able to easily pull videos that you place on Vimeo into our software and then organize them under the categories you choose.
This makes updating the metadata and the video links quick and easy. Our seamless integration saves you the hours it would take to copy and paste information between your account and our channel management system.
Many of our competitors, force you to use their video hosting and streaming services. This often leads to high costs. They do not provide an easy way for you to host your videos outside of their own enclosed system. Every time you add a new customer, you end up paying them ore in bandwidth charges as that customer watches your videos. Why should you pay more in video hosting charges just because you added a new customer.
That's why our customers use outside video streaming services like Vimeo to host their videos. These services offer flat rate video hosting. This is much more economical for channel owners.
Now when you add a new customer, you do not automatically pay more for that customer. Instead you gain positive financial traction. This is why syncing videos that you host off site is much more profitable, that paying bandwidth charges to your Roku channel provider.
Please contact us if you would like to learn more about developing a Roku channel. We are friendly and happy to help with your project.
Go to top of page